Cartoon Art and Humorous Illustrations bring smiles, builds goodwill, and is extremely effective as a communications tool. HumorGraphics provides original one-of-a-kind drawings that quickly deliver your message in fun, friendly and compelling ways.
Using a "Touch of Humor" is a natural complement to youre marketing and promotional plans.
Click here to read more about using Humor in your marketing.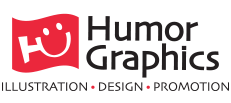 HumorGraphics is a specialty service of Milburn Creative