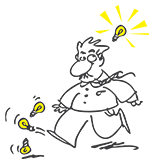 At times clients simply need someone outside of their organization with whom they can discuss their communicaton needs—an outside creative sounding board like Milburn; someone to help kick around and explore new ideas.
Having an experienced consultant will help you see your project from a new perspective. This  will often speed up critical promotion and marketing decisions. Milburn carefully listens to the thoughts being expressed, interprets, simplifies, and provides creative suggestions and solutions for your marketing and communication needs.
Whether you need a couple of hours, a day or two, a week or on-going services, Milburn is available to work with you and/or your business as a collaborative consultant.
Please contact Milburn Taylor for consulting options.