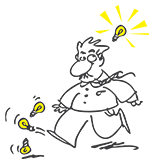 Many times a client simply needs an outside "creative sounding board" to bounce their ideas off of. Having an outsider's participation helps the client see their project in a new light which often speed up critical promotion and marketing decions. I carefully listen to the thoughts being expressed, interpret, simplify them, and then provide creative suggestions and solutions.
Whether you need a couple of hours, a day or two, a week or on-going services I'm available to work with you and/or your business as a collaborative consultant.
Please contact Milburn Taylor for negotiable options.