Like a lot of businesses, these past three years have been difficult to wade through… beginning with the COVID pandemic. Well, I'm back more focused than ever, and providing clients with fresh ideas for advertising art and design.
And, HumorGraphics is also back! I'm now working with several other cartoonists/illustrators to offer you a choice of styles to help you promote your products and services with a touch of humor.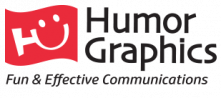 Thank you for your patience during these turbulent times. I look forward to working with you!