Things always seem to have a way of working towards a greater good.
To better reflect Milburn Creative's complete services, my logo and tagline was updated recently. You'll find my drawing styles and samples as they were earlier,  and the planned "Humor Gallery" will now be a part of Milburn Creative vs. an idependent site.
Look for a new tab and updates for the Humor Gallery. I'll also be adding a sub-link toa site or sites where you can purchase individual items featuring some of my favorite art…just in time for Christmas too! And I have plans to add some low-res "freebie" pencil sketches for the web—perhaps you'll want to download a few for your own use. Inexpensive high-res (printable) versions will be available for purchase at a later date.
Looking for Promotional Products?
I'll soon have a link to that service with a local supplier I have worked with for many years. My specialty will be working with humorous art.
Once again, I want to thank my clients and supporters for their support over so many years.
Best wishes to all as we enter the 2018 Holiday Season!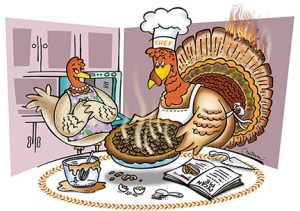 And a special thank you to Lee Rogers, The Rogers Group in Fort Worth, for many fun assigments over the years.
Above: Thanksgiving card art for The Rogers Group